Like many others here on UWDP, I've had a lot of extra time at home without sports. I've been toying around with a few ideas for what to write about, but since recruiting has been really quiet relative to what most springs are like, I've decided to do another film breakdown. I also decided that since its been a couple of months since John Donovan's hiring as our new Offensive Coordinator, the dust has settled enough for a fair assessment of what he brings to the table. Thanks to the NFL's decision to give out complimentary access to Game Pass, as well as YouTube's infinite archive of old games, I've put together a breakdown on what we may see this fall (at least I really hope this fall).
*As I was writing this article I noticed that it was getting VERY long, so I will be posting this in several parts.
Donovan's Coaching Background
When I began planning out my film study, I decided that I needed to start by reviewing the original influences of Donovan's offenses, what the Donovan Offense has been, and more importantly, how more recent coaching stints may influence what we see him install on Montlake. Digging into his bio, Donovan's coaching career is as follows: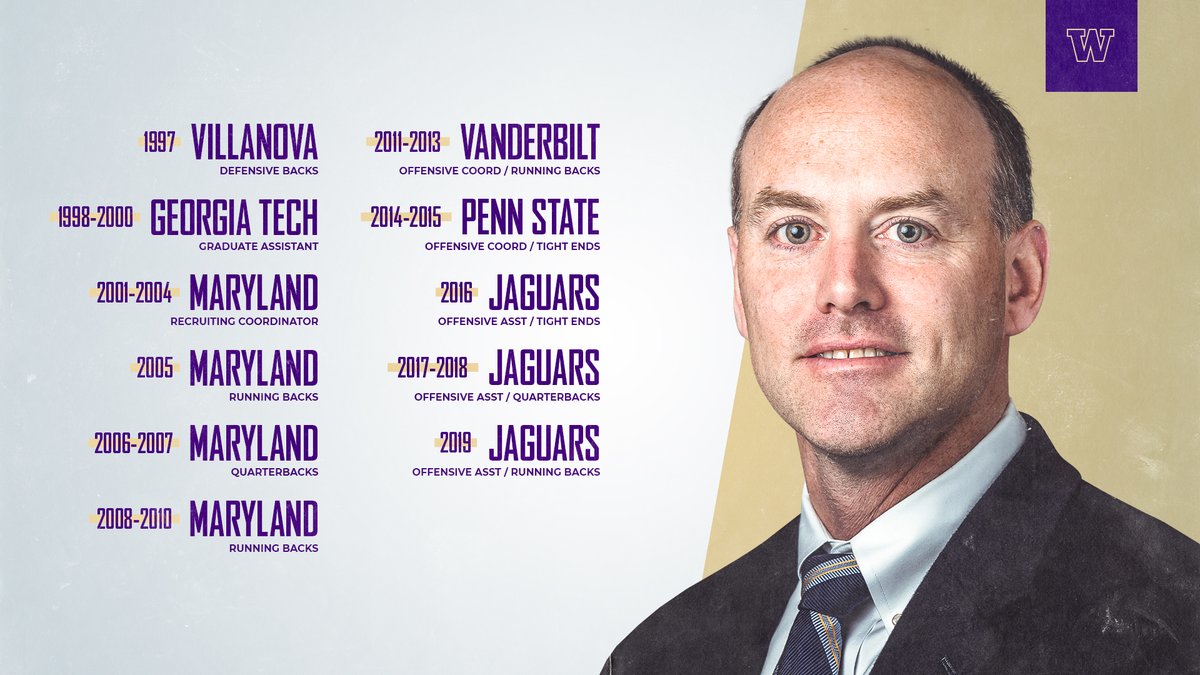 While doing my research, I learned that nearly Donovan's entire career from his stint at Georgia Tech, through his time at Penn St., was under the George O'Leary coaching tree. O'Leary was the HC at GT from '98 to '00, when Donovan was a GA. When Georgia Tech OC Ralph Friedgen got hired as Maryland's HC, Donovan went with him. From '01 to '04 Donovan was a non-field staffer as Maryland's Recruiting Coordinator, but he then got back to on-field coaching through various offensive assistant positions on the Maryland staff until then-Maryland OC James Franklin promoted him to OC when Franklin took over as the HC at Vanderbilt. Donovan again followed Franklin when he was hired at Penn St., where he last held a play calling role.
In total, Donovan worked for 17 years within the same coaching tree, which for those who haven't coached before, is a very long time within a particular system. When I say he worked within the same coaching tree, I am referring to the fact that he worked under OCs or offensive-minded HCs who all rose through the ranks within the same system (Friedgen (OC/HC) -> Franklin (OC/HC)). Just like players on a team, the message can get stale, and there is a lot to be gained from bringing in fresh ideas and a new perspective. Plays can be co-opted from other teams, and off season conferences and clinics can be ways to see new ideas, but plays are a interconnected pieces of a scheme/system, and its impossible to learn an entire system without working under a coach who runs that system.
With all of that in mind, I have rethought my opinions regarding Donovan's Penn St. firing, and while I'm still unsure who was to blame for the poor performances that led to his firing, I believe that, above all, his firing and subsequent time with the Jaguars was an opportunity to really grow as a coach. Unlike other "retread" hires, Donovan's time at Penn St. was his first real career setback, and there is good chance that it was an opportunity to really take a long time to reflect on what he'd do differently in order to come back even better. How he blends his experiences and adjusts his approaches will determine how successful his comeback is.
Anyways, I've decided to breakdown his career into three distinct periods; the Friedgen Years, the Franklin Years, and the Jaguars Years. By breaking down his career as such, we are able to distinguish the three separate OCs who he coached under (Friedgen was both HC and OC at Maryland until 2009), and it will allow us to better differentiate between the core concepts of the respective schemes and the trends of each period as almost every coach's system evolves year-to-year to incorporate the "best practices" of the day. These three periods also offer different insight as far as the type of offense that Donovan might run.
The Friedgen Years (1998-2008): Donovan's Foundation
These years were the "grind" years for Donovan as he developed as a position coach. While he didn't call plays for these teams, the practice drills, game day rotation patterns, and approach to the game as a coach are all instilled during these years for most coaches.
While we may not be able to take away many clues as to what specific schemes that we may see from Donovan, we can get a sense for the types of offensive traits that Friedgen may have handed down to Donovan. Friedgen ran a fairly conventional offense for the time (late '90s & early '00s), and it was what could have been considered a "Pro-Style" offense with a few I-formation triple option wrinkles for an added dimension. These rushing attacks were downhill power/gap schemes that leaned very heavily on A-Gap Power, Lead, and traditional Power-O while also incorporating plays like the triple option and load option to threaten the perimeter, even though none of the Georgia Tech or Maryland QBs were truly rushing threats. These rushing attacks were generally the bread and butter of some of Friedgen's best offenses ('99 GT, '01 Maryland).
'01 Maryland running 2-back Power vs. Clemson
'01 Maryland QB Shaun Hill running the I-Formation Load Option vs. Florida St.
As you can see from the clips above, Friedgen leaned on a mix of 21 or 12 personnel in under center formations, although slot receivers were utilized in passing situations on a limited basis. There was a decent amount of pure drop back (non-play action) passing, although the early 2000's passing offenses were fairly simple compared to some of the more advanced passing attacks these days, and the Friedgen offenses leaned heavily on the Air Coryell's vertical concepts. A few West Coast concepts were incorporated into the Friedgen offense to maximize the RBs and horizontal spacing in the passing game, but almost all of Friedgen's disciples see the pass as a means of getting chunk yardage rather than maintaining ball control.
Over the course of 3 games that I watched from 2000 GT to 2007 Maryland, Friedgen seemed to have an approach to offensive football that reminded me of both Coach Petersen's offenses and the Harbaugh-Shaw Stanford teams. Like all three coaches, Friedgen had a cerebral approach to the game, and it looked like he wanted to have an answer to anything the defense would throw at him, while still being content with running the core of his offense. Heavy usage of formation shifts, motion, and audibles suggest that there were layers of checks and alerts that offered built-in contingencies for every possible reaction, just like Petersen's notoriously voluminous playbook. However, one significant difference between Friedgen, and later Donovan's approach, was when it came to touch distributions. When it came down to it, Friedgen was much more like Harbaugh and Shaw in that he knew when not to mess with a good thing, both schematically and personnel-wise.
Share of Offensive Production by Top 3 Players by Usage Rates
Pts/Game Rank
Touches
Yards
TDs
1999 Georgia Tech
2
59%
36%
47%
2011 Stanford
7
51%
37%
43%
2015 Stanford
18
47%
43%
21%
2016 Washington
8
36%
34%
41%
2019 Washington
41
34%
31%
38%

As you can see from the table, Friedgen's teams and the Harbaugh-Shaw Stanford offenses made a conscious effort to feature their star players in a number of core concepts over and over. The top players on the 1999 Georgia Tech team (#2 scoring offense & Friedgen's best) had enormously high usage rates, and the top 3 leaders in touches from scrimmage accounted for 59% of all touches, 36% of yards, and 47% of TDs. By comparison, almost all of Coach Pete's UW offenses had their top 3 players, by usage, account for ~35% of touches. An interesting note here is that Coach Pete had offenses that were far more similar to the Friedgen and Harbaugh-Shaw offenses in their touch distribution when he was at Boise. Both his 2006 and 2009 Boise teams (#2 & #1 offenses respectively) had 50+% of their touches in the hands of their top 3 players. Part of this could be attributed to those Boise teams having dominant Big 3s (relative to the competition) to feature compared to UW who always had a depth of talent but maybe not the same level of relative star power at the top (outside of 2016). Either way, the "star-driven offense" approach can be very effective in leveraging high-end star talent that we have been bringing in recently, but the loss of such star players due to injury or graduation can be even more catastrophic to an offense.
While I used the 1999 GT team earlier as an example of Friedgen's concentration of touches, some of the yardage and TD production is skewed by an option-heavy offense that year. While it is a poor example of illustrating the correlation between yards and TDs with touches, it does emphasize another key point that is somewhat related to building star-driven offenses. The '99 GT team's stats were skewed due to an unusually option-heavy offense that year due to the team having a fantastic athlete at QB in Joe Hamilton. The subsequently juiced play action passing game threw off many of the per touch stats, but is an example of Friedgen's willingness to shift between schemes and system influences in order to accommodate the best players on a given team. Building a offense for the roster versus building a roster for an offense is something that I've heard many people debate over the years. Personally I believe in tailoring the offense for the players because of my background in HS coaching where you don't get to choose your players. Of course both sides of the debate maintain a core set of principles, but being able to adapt to the strengths of a team's roster is a very useful skill that Donovan has developed over the years.
Main Takeaways:
Offensive schemes were not particularly innovative, but were well designed, diverse set of concepts, and had answers for nearly everything (potential to be very complicated)
Offensive system incorporated different concepts year-to-year to accommodate roster strengths and "modern best practices"
Friedgen tended to build his offenses around a small group of stars
Play calling was not afraid to get repetitive when certain players or plays were working; "rode the hot hand"
Other Notes:
Motion-heavy scheme with frequent pre-snap shifts
Run heavy schemes that utilized both "feature backs" and RB committees (although committees were used only in option-oriented offenses)
Significant difference in on-field dynamics between average and below average mobility at QB (stats support that with offenses finishing in top 25% in scoring when the primary starter had (100 yards for the season, even when passing stats off-set rushing production)
What to Expect at UW - A "Big 3"
Everyone's first question is likely going to be about the QB, but that is a position that I will address in further detail in an upcoming article. The only thing that I could really identify as a potential indicator for who might be tabbed as the starter was the run/pass splits. While the late 90's and early 00's weren't a particularly dynamic era for college passing attacks, the West Coast offenses and the beginnings of the Air Raid and Run N' Shoot were on the scene. However, none of Donovan's early offensive influences were passing gurus. It is clear in these games, as well as upcoming games, that we will not be a pass-first team this year. We will have a capable offense, but one that will look to spoon-feed particular players in a simplified attack. That's not to say the offense will be simplistic, but more focus on primary receivers and attacking match ups probably won't require multiple years of study for QBs and WRs to master.
For all of you who were pounding the table last year to see more of Puka, this new approach should be a good thing. Unlike the last two years where we haven't had a go-to option from game-to-game, we should expect to see a definitive pecking order for touches as more plays will be designed for a specific primary receiver rather than a play concept where a defense can more easily dictate the read. That means we should see more "alert" routes and a concerted effort to find the best match ups. Terrell Bynum or Cade Otton could also benefit as secondary options since I believe Donovan will be more about hunting for match ups, and having an effective secondary option that can capitalize on a defense that is focused on stopping the primary option will be important.
At RB, despite some of my earliest comments and predictions regarding what we might see from Donovan, I believe that we will see a less egalitarian rotation. While I do expect a heavy focus on the run game, mostly due to comments by Coach Lake and our returning OL and RB talent, I don't expect much of an RB by committee approach. Donovan and his former coaches have all emphasized a pretty clear 65/35 split with a clear RB1 and RB2 who had fairly similar profiles. Whether this is for getting backs into a rhythm or wanting to maximize a RB's touches, I am not sure. There is also a clear preference to establish a gritty downhill run game, although in upcoming articles I will outline the integration of outside zone concepts into his rushing attack. That doesn't mean we will be looking to pound the ball 40 times a game if we're only averaging 3 yards per carry, but we will probably see an attempt to play more gap schemes and with more lead plays when attacking the interior in order to attack weak points in an opposing front and then hammer that point. This will be in contrast to our heavier use of outside zone with Gaskin and Ahmed where we asked our RBs to read the flow.
Given this expected approach, I see Newton as the likely leader at RB. While he has shown vision and quickness to run outside zone plays, he separates himself as a violent interior runner. McGrew is also talented and provides multi-dimensional abilities, however he will probably need to prove his abilities to run in heavy personnel and condensed formations (I-formations, bunch sets, etc.) to really compete for the lead spot. While a capable and explosive runner, McGrew's most efficient plays were those where he could win in space, not in a phone booth. Davis would be a trendy pick to take over the lead spot if Newton were to have any setbacks, as his skill set is somewhat similar to Newton's. However, I don't consider him a true threat to take on the RB2 position since McGrew is too dynamic of a player to keep on the bench in a 2 RB rotation. In short, don't expect the RB3 to see much of the field.
Projected Big 3 by Usage:
1. Richard Newton, RB
2. Puka Nacua, WR
3. Sean McGrew, RB
"First Guys Off the Bench" (guys who would see increased touches if one of the Big 3 were to be unavailable):
Film Study References: